We offer a wide variety of interior and exterior house painting services.
Do you have one or more interior rooms or walls that you look at with dismay each day? Are you happy with the color of your home? Is the fence or patio in need of some sprucing up? If you said yes to one or more of these questions, we encourage you to reach out to us at American Quality Painting to learn about our various house painting services. We know how powerful color can be. A color you hate is going to affect your mood adversely, while one that you love will make you feel empowered! We offer both interior and exterior house painting, along with a few services you might not expect.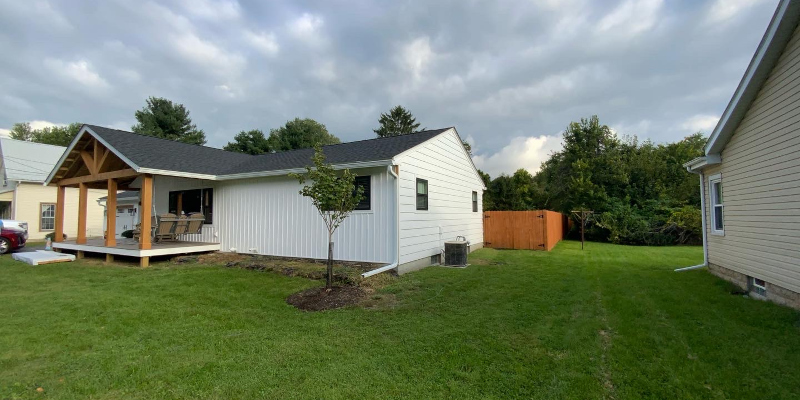 Interior House Painting – Our interior house painting services include:
Basement painting– Renovating your underutilized basement into living space? Count on us to take care of the painting, so it feels bright and cheerful, unlike many basements.
Bathroom painting– We use the right type of paint to stand up to the humidity created in bathrooms from showering.
Bedroom painting– Does your bedroom feel restful or does the color irritate you? It might surprise you how a color change could affect sleep quality.
Ceiling painting– The ceiling can get discolored at times, especially in kitchens, but we can restore it to the original bright white or recommend a different color to change things up a bit.
Kitchen painting– You'll love spending time in your kitchen when a fresh coat of paint makes it feel more welcoming.
Trim & wall painting– Any surface that is screaming out for fresh paint or a new color is a reason to give us a call.
Consider AQP will selecting your next painter.
Exterior House Painting – Our exterior house painting services include:
Deck painting- The elements and foot traffic can do a number on decks, but we can restore yours to make the wonderful outdoor living space you deserve.
Siding painting- Banish that faded, peeling paint appearance and make your home stand out in the neighborhood.
Fence painting or staining- Protect your fencing and add some style to your property with a fresh coat of paint or stain.
Roof painting- Yes, you read that right. Roof painting is a great way to extend the roof's life and change the look of your home without replacing the roof. We know this is a relatively unknown service, so to give you confidence, we back it with a 10-year warranty.
Reach out today if you would like a quote for any of our house painting services for your Columbus, Ohio home. We are confident you'll love the quality of our work and our affordable prices.
FAQs About Our House Painting Services
Our team at American Quality Painting offers expert house painting services to help you keep your home looking great inside and out. Below, we'll go over a few of our frequently asked questions on the subject to help you decide if our services are right for you.
What are the benefits of using professional house painting services?
Hiring professional house painters like those on our team offers several advantages. First, we'll save you time—we have extensive experience in this industry, and we know how to get the job done as efficiently as possible. Second, we'll produce superior results. We know exactly which products to use and how to apply them to achieve the even coverage and beautiful results you are looking for.
When is the right time to paint my home?
There are two reasons why people paint their homes. The first is to protect their siding (and interior walls) from water damage—the paint forms a waterproof barrier to prevent moisture from damaging the siding underneath. The second is to change their home's appearance. If you notice your home's current coat of paint is peeling, you should schedule house painting services as soon as possible to make sure your home will remain protected from the elements. You can also make use of our services if you just feel like changing up your home's color scheme.
Why should I choose your house painting company?
The main things that set our team apart are our honesty and follow-through—in other words, we will tell you what we plan to do, and then we'll do what we say.
---
At American Quality Painting, we offer house painting services in Columbus, Worthington, Westerville, Dublin, Hilliard, Zanesville, Newark, Granville, and Upper Arlington, Ohio.
Similar Services We Offer: