Deck painting is an excellent way to refresh your deck and extend its lifespan.
Are you tired of having to re-stain your deck every other year or so? When you hire us, not only do you save the time you would usually spend maintaining your deck, but you can also utilize our deck painting services to provide your deck with protection that lasts longer than stains.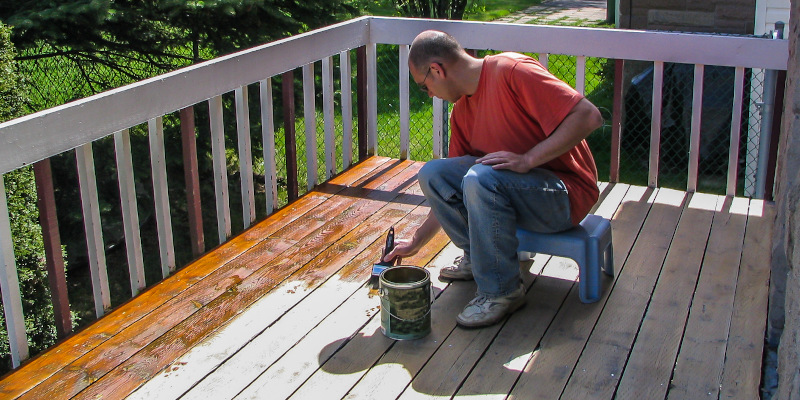 Deck painting is an excellent way to refresh your deck and extend its lifespan. And yes, even your old, weathered, cracked, or battered deck can be restored through a good paint job! This is because of the filling nature of paint. Unlike stains, paint can fill in the cracks and gaps of your deck to give it a fresh appearance.
You can also have a lot more fun with deck painting, thanks to the variety of colors that are offered. Take advantage of this creative opportunity by experimenting with bold or neutral shades that natural wood doesn't offer.
Here at American Quality Painting, we take great pride in our ability to take something old and transform it into something you'll love with our painting and staining services. Something that sets us apart from other painting companies in the Columbus, Ohio area is our accurate estimation and skilled dedication. We can do exactly what we say we can, and we work hard to provide you with fair prices and a reliable team.
So, if you're looking to change things up a bit with commercial painting, interior painting, exterior painting, roof painting, deck painting, or any other painting project, don't hesitate to reach out to us today for more information!
Our deck painting services are performed by skilled and experienced technicians.
A deck is a valuable and appealing addition to any property. It provides a place for the residents to spend time outdoors, dine al fresco, and make memories together. But the materials used to construct decks do wear out and fade over time. If your deck could use a little TLC, our team at American Quality Painting can breathe new life into your outdoor living area. We specialize in deck painting services for those located throughout the Columbus, Ohio area.
No matter how you use your deck, we can help make it look like new again. We start the process by cleaning the deck thoroughly, removing any debris that could make it difficult to add a fresh coat of paint. After completing the cleaning process, we'll prep the surrounding space to make sure the paint doesn't get anywhere it shouldn't be. When the deck is prepped and ready, we'll use paint products that are rated for outdoor use to ensure that the freshly painted surface won't be damaged by the changing climate conditions. We finish the painting process by applying a protective final coating, giving you a beautifully repainted deck that will hold up well throughout the changing seasons.
Our deck painting services are performed by skilled and experienced technicians. We treat each of our clients' properties with respect. In addition to deck painting, we offer deck staining and other exterior painting services. We'd love to help you improve the appearance of this outdoor space by performing a professional deck painting service.
---
At American Quality Painting, we offer deck painting services in Columbus, Worthington, Westerville, Dublin, Hilliard, Zanesville, Newark, Granville, and Upper Arlington, Ohio.